You know what Hollywood top actor Will Smith slapped Chris Rock for real at the 94th Oscar ceremony. This moment took all the limelight of this year's Oscar and the irony is that Will Smith went on to win the best actor award as well. This moment took everyone by surprise and became the most talked-about piece of news coming out of the 94th Academy Awards.
How The Events Unfolded at Oscar 2022
Chris Rock was on the stage to present the best documentary award when he joked about Will Smith's wife Jada Pinkett Smith. He compared Jada Pinkett Smith's baldness to Demi Moore's appearance in the film "G.I. Jane." Further, he suggested that he hoped she would appear in its sequel. Will Smith first reacted with a smile but then shouted in a profane way by saying that Chris Rock should keep his wife's name out of his f——-ing mouth.
After hearing the joke, Will Smith walked onto the stage and punched the face of Chris Rock. Initially, people took it as scripted, but when Will Smith came to receive the best actor award and apologized to the academy for the way he reacted, everyone realized it was an unscripted event.
Why Will Smith's Wife is Bald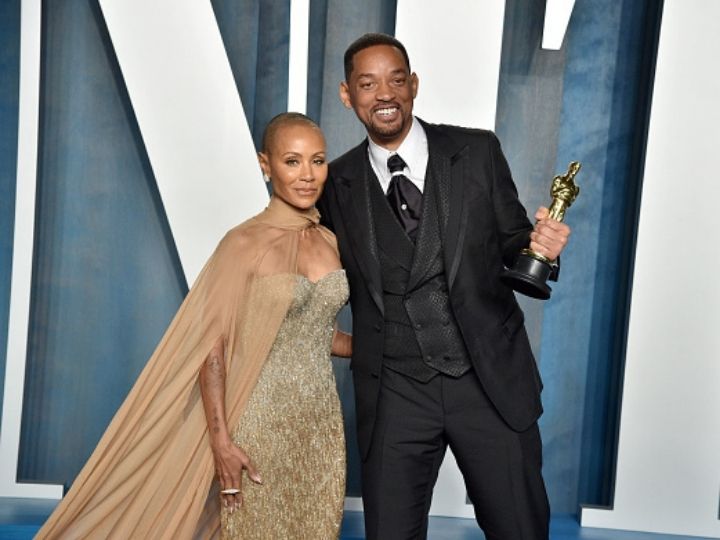 Will Smith's wife Jada Pinkett Smith is suffering from a health condition called Alopecia in which a person loses their hair from the head or other body parts due to heredity, hormonal changes, medical conditions, or a normal part of aging. Approximately 2% of the general population globally suffers from alopecia at some point in their lifetime. Alopecia areata is not curable. She revealed her condition back in 2018. She has been very open about her condition and comes on social media from time to time to share information about her struggle with the disease and spread awareness about it. In Spite of her condition, she looked stunning at the 94th Academy awards where she wore an Emerald Oscars Gown.
Will Smith Award And His Apology:
Ironically, Will Smith won the award for best actor for his portrayal of the father of William's sisters ( tennis players) in the movie "King Richard. " It was Will Smith's 3rd nomination in the category of best actor. Earlier 2 were for movies "Ali " and "The Pursuit of Happyness".
While he was giving his acceptance speech, he broke down in tears. His more than 5 minutes long speech touched on many points. He started his speech by saying that Richard Williams was a fierce defender of his family. Further, he added that Denzel(Denzel Washington, actor) told him in between breaks that in this business, he would have people disrespecting him and he got to smile and pretend like that's OK. Then in the latter part of his speech he said that he wanted to apologize to the academy and all of his fellow nominees for the way he handled and reacted to the cracked joke. In between his speech, he also revealed he wanted to be a vessel for love and he wanted to thank Venus and Serena for entrusting him with the role of their father in "King Richard." He also said that he wished that William's sisters had not seen what happened earlier when he had punched Chris Rock on the stage. During the whole speech, Will Smith was totally in tears and his speech was heart-touching, to say the least.
Note:- To stay updated with these types of latest blogs, bookmark our URL now